Our tree service begins with a free estimate by our professional and experienced service managers and are completed by our ISA certified arborist . We help residential and commercial customers maintain beautiful, healthy trees. Spokane Tree Pro strives for 100% satisfaction. When you choose Spokane Tree Pro, you're choosing a safe, professional tree service that utilizes the best technology and practices in tree service and tree removal. Get started with us today!
Our Tree Services
Tree Pruning
Whether for safety or aesthetics, pruning can improve the health of your trees. Correct pruning promotes healthy new growth and can sometimes save a tree from removal. It takes a professional with education (ISA certification) and the skills to know where to make correct cuts and how much of the tree can be removed without damage or danger to the tree. We have the specialized equipment that allows us to prune large or challenging trees. Read more about good pruning practices.
Tree Removal
Trees need to be removed for a variety of reasons. No matter if it's a small or large removal, removing very heavy limbs and tree trunks without damage to the surrounding property can be very difficult — our number one priority is your safety, and the safety of your structures and property. We have the skills, knowledge, equipment, and the right crew to get it done on time and safely. We remove trees by starting with the top down. After all limbs are chipped up and hauled away, we remove the trunk by cutting it into small, manageable chunks. Hauling all that heavy wood is no easy task, but with the proper equipment, like mini-skid steers and trucks that can handle that type of weight, it's all taken care of by us.
Stump Removal
Stump removal requires a very powerful machine with carbide cutting teeth that chews through the stump with ease. After, there will be many stump chips, which we can haul off, if needed, leaving about a 6-12" hole left with a good grind to grade. After the stump removal and grind, we can install new top soil if desired. This will allow grass to grow, or provide a place for another tree to be planted. If the grind is not correct, there will be no way for anything to grow for years to come, so it is important for this part of the job to be done correctly.
Tree Planting
In additional to tree removal, Spokane Tree Pro can plant new trees! Proper planting of trees ensures that the tree will grow in a healthy way. We take species, location, soil, ph balance, and size into consideration when planting a tree. By making this plan, we can help you choose the proper place for your new tree to grow and flourish. With ISA-certified professionals like us, you can be confident in the health and life of your new tree.
Dangerous Tree Removal
Hazardous trees, whether unhealthy or damaged by storms, are a danger to your home and property. Removing dangerous trees needs specialty care and equipment. Spokane Tree Pro has the equipment, like our [90-foot tracked lift], and experience to take care of these hazardous trees. If you aren't sure about the health of your trees, get in touch with us. We'll make a plan to help restore the safety of your property and your piece of mind.
In addition to dangerous trees, we also work with Avista to remove limbs and branches that may be tangled or close to high voltage power lines. This very specialized work may involve more research or site visits, so get in touch with us and we can start the conversation.
Logging
We are able to log any property, whether for building preparation or fire clearance. In any removal work, we also remove the cut down trees and transport it to the mill for milling. In addition, an important aspect of our logging work involves more than just clearing trees. We assist forest landowners and land managers with:
Identifying present or future forest insect and disease issues, including development of forest management prescriptions that reduce the risk of forest stands from insects and disease
Adverse environmental problems, such as drought, wind damage, winter damage, pest prevention
Suppression activities such as slash disposal, blowdown salvage, sanitation salvage, thinning methods, planting recommendations, pheromone and pesticide applications
Pesticide use and hazard tree evaluations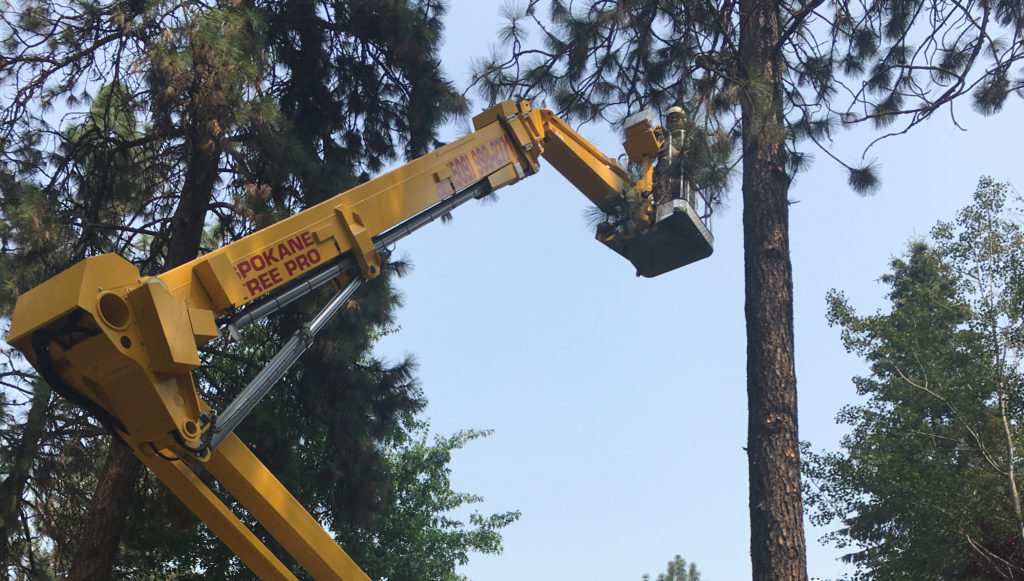 Meet Our Tracked Lift
We are the only tree service in Spokane with a tracked lift that extends over 90 feet. This specialized piece of equipment is leading the industry in tree work and allows us to safely access trees that are unclimbable or dangerous. It is compact and can access many areas larger pieces of equipment can't reach. Not only is it a safe way to work on trees, it also provides a safe way for our crews to access trees without the wear-and-tear of climbing trees everyday. Basically, it's a great piece of equipment for everyone!
Learn about Cold Weather Tree Care
We meet a lot of people who think that the only services trees need during fall and winter is damage control. And we get that. It can be windy, snowy, icy. Any of these conditions can cause damage to trees, and homeowners understandably want to get the dangerous limbs removed before they fall on a house or car. While these are good reasons to call an arborist, the full truth is that cold weather is actually a perfect time to work on your trees actively, instead of just taking care of damage after it happens.
Learn More