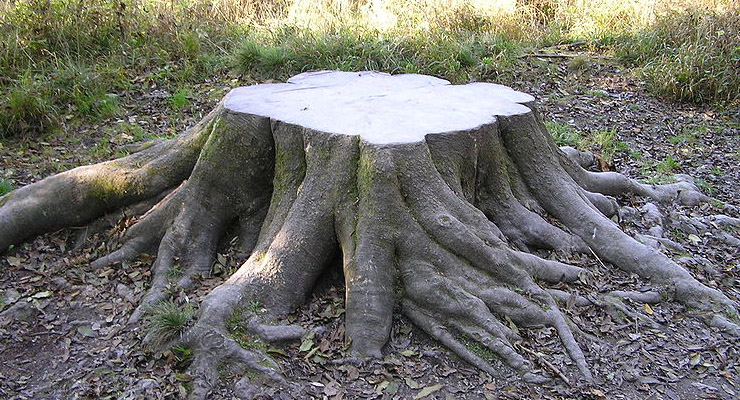 Your Friendly Spokane Stump Removal Experts
Stumps come in all shapes and sizes, in every condition from rotting to freshly cut. Sometimes you need a swathe of land cleared for a new building project; sometimes you end up with a pesky stump when a tree fell over during a winter storm. Some tree services will cut down your tree but not take out the stump, leaving you with a landscaping problem to deal with. Whatever the reason you're interested in a professional stump removal, Spokane Tree Pro can help you out.
Call in the professionals for a stump removal
It's true that you can rent a stump grinder for a day, so you might be wondering why you even need to hire a professional for the project. Keep reading for tips on the issues you might encounter when dealing with a home stump removal project.
Size
Rental grinders are usually only intended for very small stumps from saplings or shrubs. Any kind of larger tree will require a very powerful machine with carbide cutting teeth, so they can chew through the stump with ease. Spokane Tree Pro owns just such a grinder, so we can take care of any stump removal, no matter the tree's size or density. 
Landscaping
A home stump removal may not get very close to the ground, which will leave a bald spot in your landscaping from the leftover wood. A professional, however, can grind the stump well below grade, leaving behind a 6-12 inch hole to fill with topsoil for grass or a new tree planting. Spokane Tree Service also offers the option of hauling off the stump chips, leaving your lawn fresh and ready for mowing or other care. 
Surrounding Conditions
Even if you are working with a small stump and feel confident in your ability to remove it yourself, you may not have considered whether you're working in rocky soil, or among roots from surrounding plants, or with a particularly tough type of wood. You may damage your tools against rock, or negatively affect other plants in your landscaping, or find that your home tools are not up to the job after all. You can spare yourself these headaches by contacting a professional service like Spokane Tree Pro to assess the stump removal and complete the job with minimal hassle. 
Number of Stumps
No matter what kind of stump you're working with, if you have a whole field full of them to remove, it's probably time to call in the professionals. When clearing land for a building or other project, it's crucial to get the entire stump and root system for multiple trees and to complete the job speedily. Spokane Tree Pro has the equipment and manpower needed to make land clearing as painless as possible for the property owner. 
Why choose Spokane Tree Pro?
When you remove a tree, we think the stump removal is a natural extension of the process. Not all tree services offer stump removal, but at Spokane Tree Pro, we believe in leaving our customers completely satisfied. That's why we have invested in a professional stump-grinding machine and expert arborists who can handle any tree or stump removal you need. Contact us today to inquire about that stump that's been making it hard to mow your lawn for years, and we'll get rid of it for you today.